Tualatin's Winona Grange #271 has been serving Tualatin since 1895.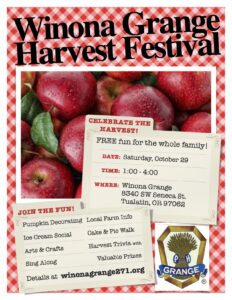 Join us on Saturday, October 29 for our Harvest Festival.  There'll be fun for the whole family.
Here's an approximate schedule:
1:00 – Arts and crafts, games, puzzles, and books on agriculture
2:00 – Pie/Cake Walk, Harvest Trivia, and Harvest Sing-Along
3:00 – Ice Cream Social (make your own sundae)
Who are we?  Our members are gardeners or those who care where their food comes from.  We represent many professions but keep our historic tie to agriculture.  We are well known for our garden seed project. See 2021 Accomplishments for a list of our recent activities and events.  Also check out our latest newsletter.
We are accepting applications for membership.  We offer answers to your gardening questions, networking and friendship with others who share your interests, and a longer life (studies show those who socialize, and volunteer live longer).
If you have questions about our Grange hall availability, please check the Hall Calendar before contacting us at hall@winonagrange271.org.
If you have questions about the Grange, Grange programs, or Grange membership, please email us at info@winonagrange271.org.
The Mission of Winona Grange, chartered in Tualatin, Oregon in 1895, is to provide opportunities for involvement and leadership in community service, for individuals and families; to maintain our local advocacy for agriculture; and to welcome the community into our Grange hall for a wide variety of educational and social events, portraying our traditional American family values.