We have seeds!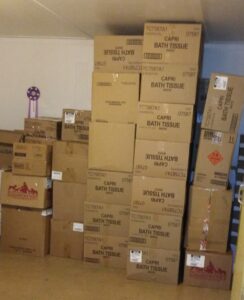 Bi-Mart provided us with two
pallets of seed packets. 64 boxes of various sizes.

We held two sorting parties:  All day Saturday and a half day the following Friday. Sorting is like playing cards.

We had lots of help. In addition to Winona
members, we had Kinton, Washington, &
Columbia Grange members, and volunteers
from Dairy Creek Food Web, Hope Charter
School,  Sherwood YMCA, Faith Lutheran
Church, Happy Valley Community Garden,
Scholls Women's Club, and Irish dancers.
We provided seed packets to
Community Gardens
Aumsville Community Garden
Barton Street P-Patch
Bellevue Lake Hills Farm
Bethlehem House of Bread, Tigard United Methodist Church
Calvin Presbyterian Church Garden, Corvallis
City of Ashland Community Gardens (3)
City of Sherwood Community Garden
Coquille Harvest Moon Garden
Diggin' Shoreline Community Garden
Estelle Street P-Patch Community Garden &
Freeway Estates Community Garden, Seattle
Fulton Park Garden, Portland
Good Earth Community Garden, Bandon
Green House Community Garden, Burien
Happy Valley Community Garden
Licton Springs P-Patch, North Seattle
Light of Christ Community Garden, Federal Way
Magnuson P-Patch
Miller's Landing Community Garden, Bend
Outgrowing Hunger (10)
P-Patch Haller Lake Garden, Seattle
Picardo P-Patch, Seattle
Pierce Conservation District Community Gardens (18)
Portland Parks & Recreation (58)
Robinwood Community Garden, West Linn
Sisters Community Garden
SnoCap Community Garden, Gresham
Mark's Community Garden, Lacey
Thomas Street Garden, Seattle
Tigard Community Gardens (3)
Trinity Fellowship Church Community Garden, Portland
Tualatin United Methodist Church Hilltop Community Garden
Tualatin Valley Gleaners' Giving Garden
Turner Community Garden
Union Park Community Garden, Medford
University District (U-District) P-Patch
Wetmore Community Farm, Seattle
Granges
Fern Prairie Grange #866, WA
Grays River Grange #124 WA
Illinois Valley Grange #370 OR
Kinton Grange #562 OR
Little Deschutes Grange #939 OR
Maple Grove Grange #244 ID
Napa Valley Grange #131 ID
Pleasant Ridge Grange #135 ID
Quincy Grange #321 OR
Redmond Grange #812 OR
South Fork Grange #605, OR
Washington Grange #313 OR
Education
K-8 Garden Program, Seattle
Leschi Elementary School, Seattle
McKinley Kids Gardening, Tacoma
Nova High School farm, Seattle
Sisters Elementary & High School
Washington County Ag in the Classroom, OR
Others
Ballard Food Bank
Beacon Food Forest
Beacon Hill Garden Club
City of Toledo, WA
Dairy Creek Community Food Web
Friends of Georgetown History, Seattle
Independence Riverview Farmers Market
Manav Foundation
Monmouth Public Library
Pringle Creek Community, Salem
Santiam Canyon Tool Library
Seattle Tilth Alliance
Sisters Seed to Table
Sherwood Rotary
University District Food Bank
Venersborg Seed Swap
White Center Food Bank, Seattle
Questions or comments?  Please contact us at seeds@winonagrange271.org