Sorry, we're out of boxes of seed packets!
We've distributed over 100 boxes of vegetable, herb, and flower seed packets to community gardens, Granges, libraries, and groups that promote gardening.
We've already gotten two pallets of packets stores didn't sell last spring and summer. If you're near Tualatin, we can use your help sorting packets on Saturday, September 23. We'll have shifts at 9, 11, 1, and 3. If you help us for two hours, you can fill your pockets, bag, or box with as many as you, your family, friends, and neighbors will plant. Email seeds@winonagrange271.org to let us know which shift you can work.
We'll pack boxes on Saturday, September 30. Same deal.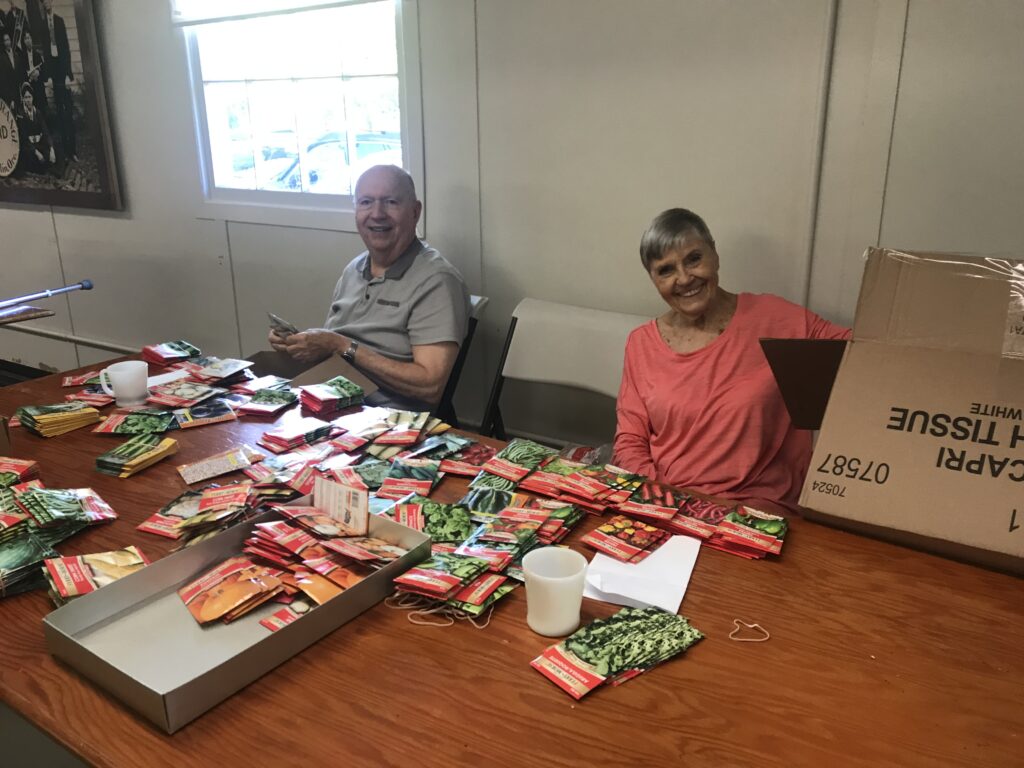 We provided seed packets to these groups:
Community Gardens
Aumsville Community Garden
Barton Street P-Patch
Bethlehem House of Bread, Tigard United Methodist Church
Calvin Presbyterian Church Garden, Corvallis
City of Ashland Community Gardens
City of Sherwood Community Garden
Freeway Estates Community Garden, Seattle
Friends of Portland Community Gardens
Green House Community Garden, Burien
Haller Lake P-Patch, Seattle
Happy Valley Community Garden
Pierce Conservation District Community Gardens
Portland Parks & Recreation
Robinwood Community Garden, West Linn
Sisters Community Garden
South Coast Community Garden Association
St. Mark's Community Garden, Lacey
Thomas Street Garden, Seattle
Tigard Community Gardens
Trinity Fellowship Church Community Garden, Portland
Tualatin Valley Gleaners' Giving Garden
Turner Community Garden
Libraries
Athena Public Library
Banks Public Library
Beaverton City Library
Friends of Ledding Library
Gilliam County Public Library
Klamath County Library
Lake Oswego Public Library
Lebanon Public Library
Monmouth Public Library
Oak Lodge and Gladstone Public Libraries
Oregon City Public Library
Oregon Trail Library District
Scappoose Public Library
Shady Cove Branch Library
Sweet Home Public Library
Tillamook Public Library
Western Oregon University Library
Wilsonville Public Library
Granges
Fern Prairie Grange WA
Fernwood Grange #770 OR
Grays River Grange #124 WA
Illinois Valley Grange #370 OR
Kinton Grange #562 OR
Lake Creek Grange #697 OR
Little Deschutes Grange #939 OR
Marys River Grange #685 OR
Nampa Valley Grange #131 ID
Redmond Grange #812 OR
Scholls Grange #338 OR
South Fork Grange #605, OR
Two Rivers Grange #3, AK
Washington Grange #313 OR
Others
Aloha Garden Club
Beacon Food Forest
Beacon Hill Garden Club
Beaverton Chinese School
City of Toledo, WA
Dairy Creek Community Food Web
Hope Charter School Seed Library
Independence Riverview Farmers Market
Pringle Creek Community, Salem
Rogue Farm Corps
Scholls Women's Club
Seattle Tilth Alliance
Sisters Seed to Table
St. Helens Mega Egg Hunt
Venersborg Seed Swap
Washington County Ag in the Classroom
White Center Food Bank
Questions or comments? Please contact us at seeds@winonagrange271.org